Winner of the 2015 Oscars, Birdman is an American black comedy-drama film directed by Alejandro González Iñárritu, who has also participated in the writing and producing the film. It stars Michael Keaton as Riggan Thomson and Birdman, Emma Stone as Sam Thomson (his daughter), Edward Norton as Mike Shiner (a Broadway actor), Andrea Riseborough as Laura (his girlfriend), Zach Galifianakis as Jake (his lawyer and friend), Naomi Watts as Lesley (Mike's ex-girlfriend and actress) and Amy Ryan as Sylvia Thomson ( his ex-wife).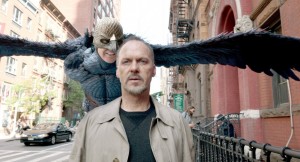 Iñárritu films Birdman as if we are watching a single sequence. This makes the film very indie.
Also, the soundtrack, with constant drumbeats, makes this film even more intriguing.

The film is about an ex-famous actor, a typical super hero, who wants to be relevant again.
For this reason, Riggan appears and directs a Broadway production based on Raymond Carver's short story, What We talk about when We talk about love.
For Tabitha Dickinson, a famous theater critic, this adaptation seems awful but she gets surprised when she finally watches it.
Riggan plays very well his paper on the play because he feels very identified with his character. He feels like he doesn't exist and nobody loves him.
Dickinson makes a magnificent film review because Riggan creates a new form of theatre: the super-realism.
Riggan shots himself with a real gun in the premiere of the film to show Tabitha how good as an actor he can be.
The film has an open end because Riggan thinks that nobody will never overcome what he did, and he decides to jump off the window.